"
... visually appealing, well edited, fascinating - and depending on one's perspective,
either deeply disturbing or darned delightful. There didn't seem to be any in between.
"
(Molly Secours, Huffington Post)
The Civil War may be long over but the spirit of rebellion is hard to extinguish even in something as innocent as a girls' summer camp. Southern Belle is a unique insider's look at the 1861 Athenaeum Girls' School in Columbia, Tennessee, where the antebellum South attempts to rise again.
Every summer, young women from around the world eagerly sign up to become that iconic and romantic image of southern identity: the southern belle, replete with hoop skirt, hat and gloves, singing the region's anthem, Dixie. The camp is held in the historic headmaster's home of what was originally a four-year college for young women from 1850-1920. Never before have cameras been allowed to closely shadow the students and teachers during this intensive week of historical reenactment.
The teachers, all of whom work for no compensation, hope to instill genteel manners and build pride in Southern heritage. Instructor and camp founder Mark Orman explains, "I just don't want the things that our families did to be discounted ... you have to judge things that were going on in the past by the past." They have also carefully selected the time period so they can share the "truth" with the next generation about why the South seceded from the Union. For them, the Civil War had little to do with slavery and everything to do with states' rights and unfair taxation.
Critics, however, say that by promulgating a Southern identity that erases emancipation as a cause of the Civil War, and glorifies a disempowered female image, the camp experience whitewashes history and misinforms the next generation. Orman, who teaches high school history, says, "I'm not sure that everything has to be balanced...The kids...who come to high school already know all the bad about slavery. It's been taught to them and taught to them and it needs to be because slavery's wrong. But there is a good side too, you know, there was a part of life that was happy."
Is the camp a self-esteem building, living history experience or does it ultimately reinforce separations between race, gender, and geography? As we begin the 150th anniversary of the Civil War, Southern Belle captures the divisive historical memory of an American subculture and challenges us to consider how a romantic portrayal of the past can affect current attitudes that continue to define and divide America today.
It has been said that in order to understand America, you must first understand the Civil War. Over the next four years, as the country commemorates the event that defined a nation, what we choose to remember – and hope to forget – of our past reveals much about who we are in the present. Southern Belle is a story about how people use history to create their personal identity and shape their values and guiding ideology.
In the summer of 2008, we discovered a camp in middle Tennessee that teaches young women how to become a 19th century Southern belle. Perplexed by the concept of contemporary girls choosing to return to a time when they would have had very few rights and freedoms, we wanted to document the experience- the only one of its kind in the country.
In this era of hyperbolic opinion and prime-time rants, we chose to observe rather than critique. This approach allows viewers to experience how the camp fulfills a wide range of desires for the participants from simply wanting to play dress up for a week to wanting to feel a connection to ancestors who fought in the Civil War. By enabling viewers to experience what the young women experienced, we believe they can better understand the underlying motivations, rhetoric and logic of a long-standing American subculture.
The camp operates out of the historic headmaster's home of the Athenaeum Girls School, a surprisingly progressive college for young women from 1852-1904. For one week every summer since 1990, organizers aim to recreate the life of a student during 1861 on the eve of Tennessee's secession. While the college was considered revolutionary for its time – teaching a rigorous curriculum in the sciences and math to women - its reincarnation focuses on manners, etiquette and dress.
Our film follows three young women learning about the history, values and practices of a Southern belle from 1861. The instructors repeatedly stress how these seemingly antiquated lessons still apply today. The teachers also make little direct reference to what would have been an integral part of the belle's life- slavery.
What does it mean to re-enact a past that represents only part of the story? How do the young women understand their history if they experience a romantic and nostalgic version of a belle's life? What happens when the rough edges of history are smoothed out of existence?
As we begin the 150th anniversary of the Civil War, we believe it has never been more crucial to examine how historical memory is formed and shared in popular culture; and to ask "Whose history is remembered and what is forgotten?"
Over the past year, we've screened the film to audiences across the country at various film festivals, community screenings and universities. Viewers' reactions have been wildly diverse and people often left with more questions than answers. They want to know what's "true" and what's not; they always ask us what we think of the camp as documentary filmmakers.
Our film is less about historic fact and more about how people use history to form their identity and understanding of the world. Because Southern Belle is meant to ignite discussion and debate and not provide conclusions, we felt it was essential to present a counter perspective to the material presented in the film.
Through a series of interviews with historians and scholars these video pieces provide additional historical context and analysis. Our intention is not "correct" the subjects' in the film but rather further the dialogue between people with different beliefs, experiences and worldviews. To learn more about how our past continues to inhabit our present watch:
Southern Belle is now available on DVD!
Purchases can be made through Documentary Educational Resources.
Southern Belle is being broadcast nationally!
Contact your local PBS station to see if Southern Belle is airing soon.
"It was fascinating to observe the collision of worldviews after the lights came up"
"The film is simply a mirror that -- depending on the perspective of the viewer -- reflects either a distorted view of history which glosses over the oppression and brutalization of African people for the good of the South, or the "good old days" when woman's petticoats, curtsying and knowing how to keep ones voice from being shrill were imperative to white female survival." (Excerpt from Molly Secour's article, "White Washing and Dressing Up History: Grooming Southern Belles For The Tea-Party Movement") (full .pdf)
"...is certain to raise eyebrows"
"In the wake of national controversy over the celebration of "Confederate History Month" and ensuing...is certain to raise eyebrows. Without comment, the film depicts a tightly corseted world where nostalgia for Dixie reigns and slavery is quickly dispensed with." (Excerpt from Ron Wynn's article, "Southern Belle: Old Times Here Are Not Forgotten") (full .pdf)
"Every feminist should watch this film. The fight isn't over."
"Last week at the Oxford film festival, I saw the scariest film I had seen in a good, long while." (Anne Babson, Carpetbaggers Journal) (full article)
Other reviews: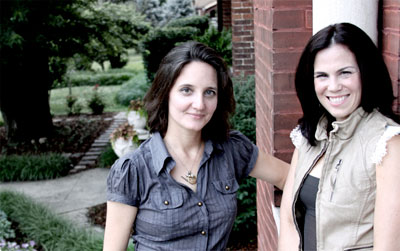 Kathy Conkwright and Mary Makley have been collaborating on award winning documentaries for nearly a decade. Their film credits include topics as diverse as political and social history, music, civil rights, public education, and state government budgets.
Before becoming an independent producer/director, Conkwright worked for five years as a staff producer for Nashville Public Television (NPT). She spent nine years in New York working with Bill Moyers and Frontline (PBS), Turning Point (ABC), Dateline (NBC). Conkwright also taught documentary studies and production at Vanderbilt and Fisk Universities in Nashville. She is getting her M.F.A. in Integrated Media Arts from Hunter College in New York.
Makley has been an independent producer and freelance editor for 8 years. Clients include Nashville Public Television, Country Music Television, Time Life Music. Most recently, she co-produced a PBS documentary on Andrew Jackson. Prior to becoming independent, Makley worked for 11 years at WGBY TV (PBS) in Springfield, MA, producing and editing documentary and educational programming for local and national distribution.
Programs Conkwright and Makley have worked on have won numerous awards including:
National Emmy Awards
Mid-South regional Emmy Awards
Columbia duPont Batons
National Headliner and Overseas Press Award
Gracie Awards
National Educational Telecommunication Association Awards
Silver Apple Award (National Educational Media Network)
Parent's Choice Gold Award